JA High School Heroes™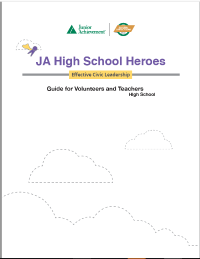 This program is administered by JA of New Jersey
Implementation:
Classroom Based
After School
Virtual
Pillars of Student Success
Work Readiness
High Work Readiness
Financial Literacy
Minimal Financial Literacy
Entrepreneurship
Minimal Entrepreneurship
JA High School Heroes
provides leadership development opportunities to high school students who deliver JA programs in elementary schools.
JA High School Heroes
is recommended for high school students.
Following participation in the program, students will be able to:
-- Identify qualities of a leader and recognize the role of civic leadership in a community.
-- Use strong presentation skills to communicate effectively.
-- Recognize and use techniques that further teamwork and achieve group goals.
-- Use a problem-solving technique to solve personal and professional problems.
-- Apply critical-thinking skills to work-based problems.
-- Recognize that decisions have consequences.
-- Recognize the value of constructive feedback and the growth mind-set.
-- Develop a personal action plan.
JA High School Heroes
is part of the JA Work and Career Readiness Pathway and is recommended for high school students (Grades 9-12). This educator or volunteer led program can be implemented as a classroom based, remote synchronous, or after school program. It includes four 45-minute sessions and is intended for high school students who deliver JA programs in elementary schools.
JA teachers and volunteers are encouraged, as part of this program, to utilize the resources available in JA Connect™ Learning Pathways, located at connect.ja.org. This self-guided experience includes interactives, JA Digital Career Book, and games and apps for student use.
JA programs support national and state standards in reading, mathematics, social studies, and work and career readiness. See below for more information on alignment with national and state standards.
Proof of JA Impact
In a recent survey conducted by Ipsos, 4-in-5 JA Alumni credit Junior Achievement for:
- Influencing their decision to pursue further education
- Impacting their professional and personal development
- Affecting their self-confidence and belief in-self
- Motivating
In addition:
- 51% of JA alumni obtain a Bachelor's degree or higher vs 33% of the general population
- 60% of Hispanic alumni, 52% of Black alumni, and 51% of White alumni have started one or more businesses during their career.
- 72% of JA alumni have a business that is still operating (post covid-19)
Completion of this program aids in strengthening your interpersonal communication skills which is vital in the growing workforce today. Your volunteerism afterwards will also make such an huge impact on the lives of the elementary students you teach and mentor moving forward.
Benefits to elementary students taught JA programs through a HSH:
- 84% of JA alumni agree the JA programs motivated them to learn
- 65% say they remember the concepts their JA volunteer taught them
- 90% of JA alumni reported being confident in managing their money
Virtual Implementation
Remote live implementation is available for JA High School Heroes.


JA High School Heroes - Informational Video
Alignment with State and National Standards
Request a Presenter to Teach Curriculum
Junior Achievement lessons are delivered by volunteers from the community. These presenters are prepared by JA to facilitate engaging learning activities that focus on financial literacy, work and career readiness, and entrepreneurship. This results in an enriched learning experience that helps students make the connection between what they learn in school and the world outside the classroom.
Steps to Request a Presenter

1) Request Info
Once you've decided to have a JA volunteer in your classroom, fill out the form on this website. You will receive information on next steps.
2) Pick Schedule
You will be able to coordinate a schedule that works for your class either online or in conjunction with a JA representative.
3) Meet Presenter
Once a volunteer is identified for your class, JA will connect you with the presenter to discuss roles, expectations, and logistics.
4) Empower Students with Standards-Based Education
After all details are in place, the JA volunteer will deliver lessons to your students either virtually or in-person.
We use cookies to provide you a personalized experience. How we do this is by analyzing user behavior on our site and sharing data with our advertising and analytics partners. You consent to our cookie policy if you continue to use this website.