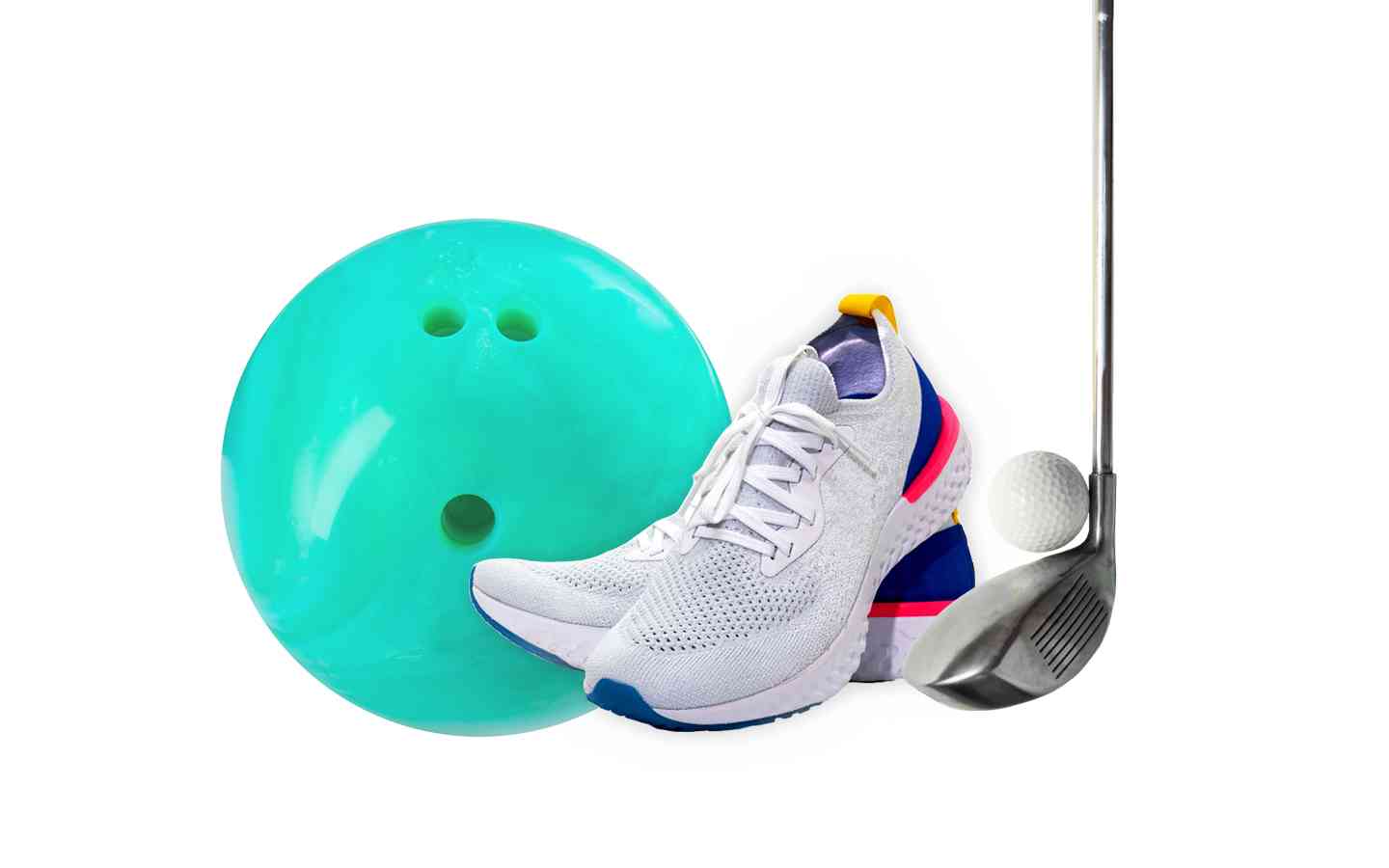 JA Events
JA of New Jersey Events
At JA of New Jersey, we host several events throughout the year to raise money to support our programming. These events also engage the community in our efforts to reach students! Whether you'd like to get involved on an individual level or as a business through event sponsorship, we offer several ways for you to support our work while having a great time!

Happening Now!
Crack the Code
When:
Saturday, November 19, 2022 - Saturday, June 17, 2023
Where: Junior Achievement of New Jersey
Time: 8:00 AM ET
Free virtual & in-person coding workshops for middle and high school students to introduce or further the principles of Computer Science, Web Development, Cybersecurity and more!
PAST EVENTS
Where: Hyatt Regency New Brunswick
Join us!

On November 3, JANJ will bring together our state's leaders and young people as part of the 2022 NJ Business Hall of Fame. JA Student Ambassadors will lead the evening's program to recognize this year's Class of Laureates.

- Christine LaCroix, Partner, Deloitte
- Dennis W. Pullin, President & CEO, Virtua Health
- Carol Stillwell, President & CEO, Stillwell-Hansen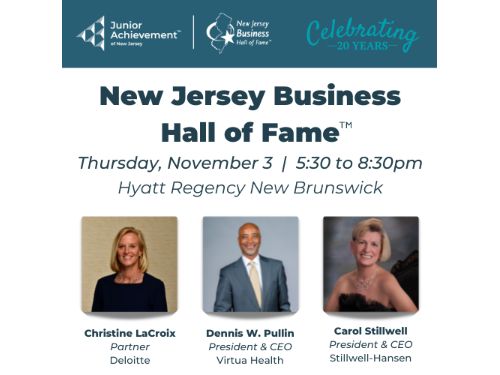 Where: Roxiticus Golf Club
Time: 11:00 AM ET
Join us at Roxiticus Golf Club and play 'fore' JA on October 3 & help inspire tomorrows in NJ's young people.

Event Schedule
11:00 AM: Registration & Brunch
12:30 PM: Shotgun Start
4:30 PM: Reception & Awards Presentation

Click below to register! Every golfer receives a gift package provided by The Liberty Mutual Invitational.

For more information, or questions, please contact Rebecca at rebecca.mamrosh@ja.org.
Where: Topgolf Edison
Time: 5:00 PM ET
Join JA for a night of fun! All proceeds help benefit unsponsored High School Heroes youth leadership initiatives.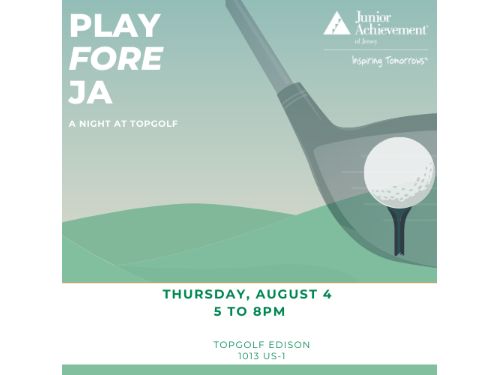 Where: Topgolf Mount Laurel
Time: 5:00 PM ET
Join Alberto Gaglianese of Lincoln Investment for a night of fun! All proceeds help benefit JA High School Heroes in Gloucester County.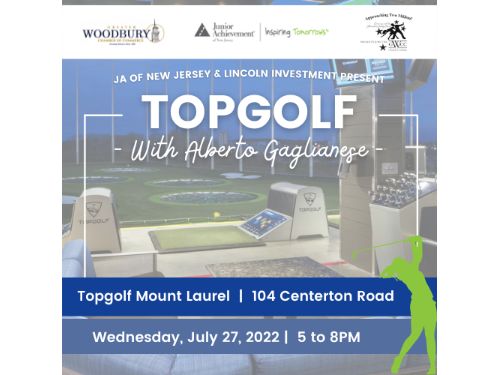 Where: Cobblestone Creek Country Club
Time: 10:30 AM ET
Join us this spring! Play 'fore' JA & help Inspire Tomorrows in NJ's young people. Sponsorships are available.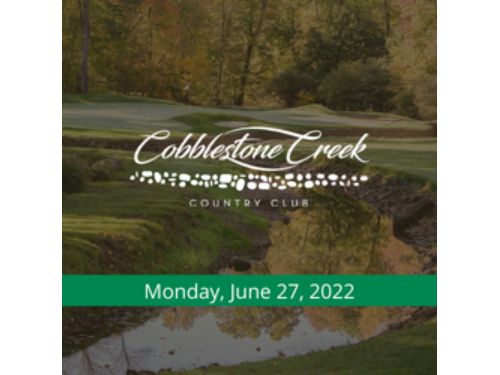 Where: Topgolf Edison
Time: 5:00 PM ET
June 9 Topgolf event is sold out - second date coming soon!

Teams of six enjoy an evening of teambuilding, skill-building, food, and fun at Topgolf! Includes three hours of unlimited Topgolf play in their indoor/outdoor facility featuring bars, dining areas, lively music, golf pros, and more. Topgolfers indulge in snacks and light dinner foods, beer, and wine, and connect with colleagues and other business partners. Prizes are awarded for top Topgolfers, funniest team name, and more!

Funds raised through registration costs underwrite students' participation in JA – making this event a true #PartyWithAPurpose. An evening of 'playing fore JA' will empower children for success in life, school, career, and beyond.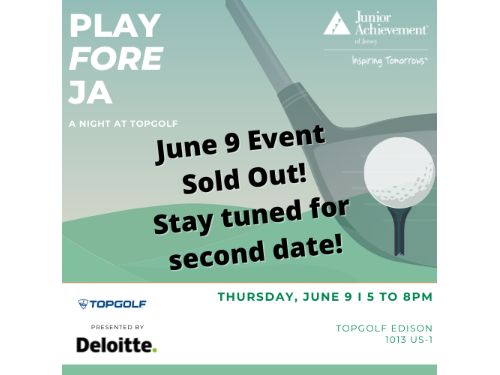 Where: Virtual
Time: 8:00 AM ET
JA Inspire is on-demand!

JA Inspire Virtual is more than a career expo; it is an engaging, interactive digital platform where students will attend webinars, view career-focused video presentations, explore company-sponsored career booths, and interact with volunteers using chat functionality. Tens of thousands of students will learn about NJ-based companies, careers, and their pathways...inspiring their tomorrows.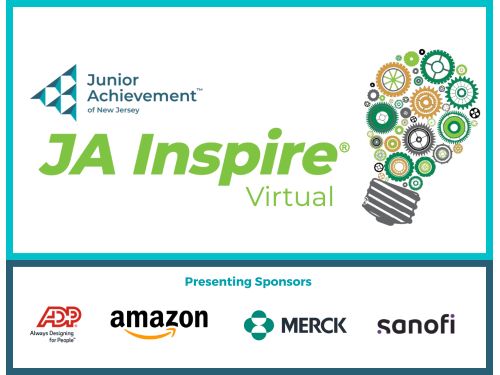 Where: JA Education Center
Time: 6:00 PM ET
Silent Auction is now live!

Join us for a very special evening of celebration and networking as we return to our first in-person special event since 2019. Let's pick up where we left off and celebrate JANJ's past, present, & future with the unveiling of the Career Pathways Center as our newest career initiative.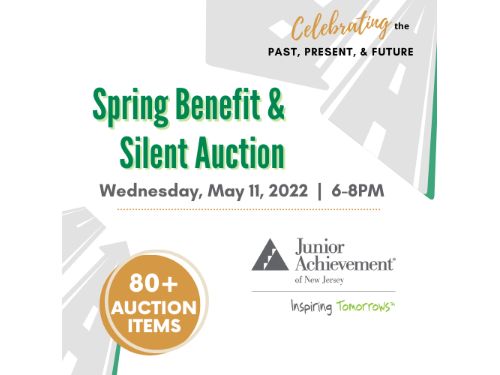 Where: Roxiticus Golf Club
Time: 11:00 AM ET
Enjoy a day on the course playing 'fore' JA! Outing proceeds underwrite JA programs that are empowering NJ's high school students to be workforce ready.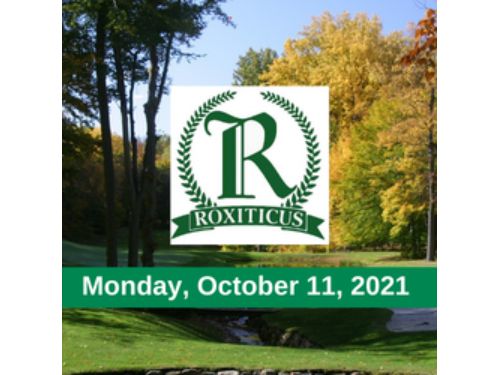 Where: Virtual Event
Time: 8:00 AM ET
JA Inspire Virtual Career Expo is Junior Achievement's capstone career development program for 7th – 12th grade students brought to life by New Jersey employers. Using virtual technology, the Inspire Virtual Expo features a mega online career event filled with 100 local business exhibits providing downloadable career information and exhibitor videos.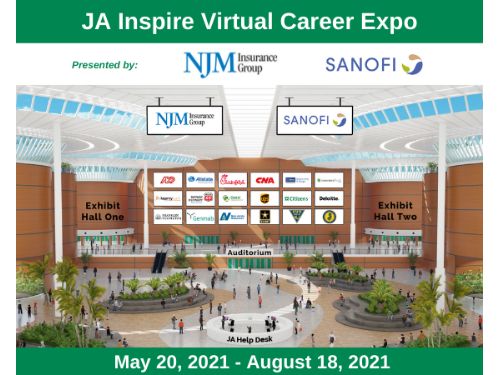 Where: Virtua, Barry D. Brown Health Education Center 106 Carnie Blvd., Voorhees, NJ 08043
Time: 9:00 AM ET
Join us as we help more than 80 high school-age girls reach their full potential. These students will benefit from meeting and talking with today's inspirational female role models – and we hope that one of them will be you.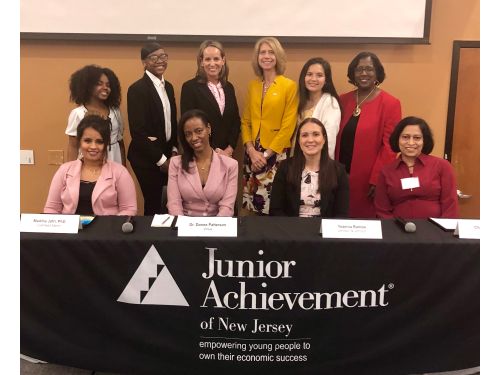 Where: Munich RE
Time: 12:00 AM ET
Join JANJ at Munich RE in Princeton, NJ on January 28 for final round of the the Titan Virtual Competition.

Since November, more than 300 student teams from throughout the state took on roles of corporate business leaders, tackled problems and made decisions in a virtual simulation to outperform competitors and be crowned the best in the industry.

The final rounds will take place at Munich RE located at 555 College Rd E, Princeton, NJ 08540 - hope to see you there!
We use cookies to provide you a personalized experience. How we do this is by analyzing user behavior on our site and sharing data with our advertising and analytics partners. You consent to our cookie policy if you continue to use this website.