Volunteer with JA Inspire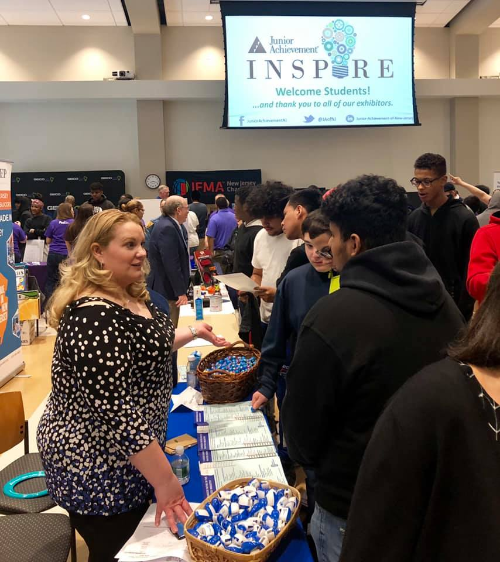 Connect with Hundreds of Students, showcase your industry and Help JANJ Inspire!
Highlight your business, engage your future workforce, and showcase your industry by joining us as a JA Inspire Career Exhibitor! You'll have the opportunity to connect with hundreds of students, open their eyes and minds to the possibilities available to them, and motivate them to build the skills necessary for success.
Career Exhibitors set up interactive exhibits representing jobs in their industry, provide two or more volunteers for the exhibit to mentor students during the Expo, and ensure that exhibits interest and engage students. Exhibits should have hands-on, tangible examples of the work you do. Your team will engage with students by sharing your equipment, technology, and insight as a professional within your industry, and share career and education advice with the students. You are encouraged to bring your own table linens, signage, banners, handouts, and anything that will draw students to your table.
The more interactive your table is, the easier it will be for students to connect and understand your business.
All Industries Welcome!
From Fortune 500 companies to growing start ups JA inspire is always seeking opportunities to connect youth to more career paths.Past and current exhibitors include Financial Services, Healthcare, Trades, Law & Public Safety, Education, Hospitality & Leisure, Government, Agriculture, Human Services, Manufacturing, Business & Marketing, Transportation, Distribution & Logistics, Retail, Architecture & Construction.
Click Here for Registration and Sponsorship Information
JA Inspire | 1 Why is Career Planning Important
We use cookies to provide you a personalized experience. How we do this is by analyzing user behavior on our site and sharing data with our advertising and analytics partners. You consent to our cookie policy if you continue to use this website.