JA NextGen Tech Series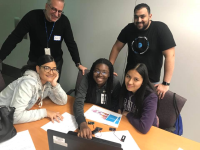 This program is administered by JA of New Jersey
Implementation:
Classroom Based
Pillars of Student Success
Work Readiness
High Work Readiness
Financial Literacy
Moderate Financial Literacy
Entrepreneurship
Moderate Entrepreneurship
JA NextGen Tech Series
is an innovative series of workshops and hackathons. New to coding? No problem! Our team has created a variety of workshops that appeal to students of all skill level.
Developed and led by high school students for middle and high school students, these learning opportunities engage young people in computer science challenges, introduce the world of cybersecurity, teach coding and other IT skills, and expose them to the careers within technology. Corporate mentors provide coaching and guidance throughout, while inspiring students to consider a STEM career.
JA Crack the Code is a series of one-day innovative programs designed for middle school students to teach basic and intermediate computer science skills. With workshops like "How are iPhone apps made," "Intro to Python," and "Beginner Web Development," there is something for every student, regardless of knowledge and skill level. This series also challenges participants to use what they have learned in various mini competitions.
JA Hackathons are twenty-four hour, round-the-clock innovative programs that test high school students' IT and computer science skills. A two-prong competition planned by high school student for high school students, JA Hackathons challenge the participants to work in teams to compete in various computer science challenges. Students attend relevant workshops and receive mentorship from corporate and college mentors. All high school students are welcome to participate regardless of their computer science skills level.
Alignment with State and National Standards
Request a Presenter to Teach Curriculum
Junior Achievement lessons are delivered by volunteers from the community. These presenters are prepared by JA to facilitate engaging learning activities that focus on financial literacy, work and career readiness, and entrepreneurship. This results in an enriched learning experience that helps students make the connection between what they learn in school and the world outside the classroom.
Steps to Request a Presenter

1) Request Info
Once you've decided to have a JA volunteer in your classroom, fill out the form on this website. You will receive information on next steps.
2) Pick Schedule
You will be able to coordinate a schedule that works for your class either online or in conjunction with a JA representative.
3) Meet Presenter
Once a volunteer is identified for your class, JA will connect you with the presenter to discuss roles, expectations, and logistics.
4) Empower Students with Standards-Based Education
After all details are in place, the JA volunteer will deliver lessons to your students either virtually or in-person.
We use cookies to provide you a personalized experience. How we do this is by analyzing user behavior on our site and sharing data with our advertising and analytics partners. You consent to our cookie policy if you continue to use this website.