What National Women's Month Means to Our Future Female Leaders
Author: Tracy Anderson
Corporate Responsibility
Published: Thursday, 03 Mar 2022
---
Sharing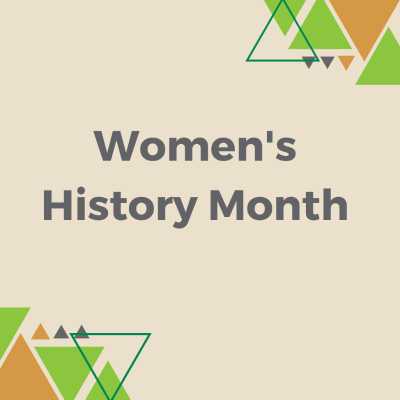 Image caption: Women's History Month
March of every year is recognized as National Women's Month. Throughout the month, the celebration aims to highlight the empowerment of women as dynamic contributors to and claimholders of development. It's a time to spotlight women's achievements and openly discuss emerging women's empowerment issues, concerns, and challenges.
As Women's Future Leadership Academy (WFLA) student leaders, they are the future and have the power to make significant changes in the world, with their involvement in this program being a major steppingstone. Role models can be influential in many ways and celebrating National Women's Month is critical in remembering how far we have come as a society. It gives us a chance to shine a light on women as incredible contributors to societal development. We all know women that have made significant impacts in our lives – mothers, sisters, aunts, teachers, bosses, celebrities, and the list goes on.
A few of our incredible WFLA student leaders shared their thoughts about the impact of Women's History Month and a role model that has been influential in their lives. Their words were powerful. Continue reading to learn about the ways various women have shaped their perspectives about life for the better.
Aaliyah
Women's History Month to me is a month of many cultures, achievements, and dreams that have become realities in many different women across the world. From historical figures like Polly Cooper to more modern well-known women like Beyonce, their stories give young and older women today courage and that push that we didn't know we all needed. This month is important because this is when we focus on the women who have created innovations, created societies and have stepped out of the box to give girls today opportunities that girls hundred years ago didn't know would be a part of their tomorrow. As a young black woman in America today I see these women as true pioneers of the shaping of our globe and as important as their male counterparts. They deserve to be celebrated and remembered, and they do not deserve to be forgotten.
Two memorable women who have taught me a lesson that has heavily made an impact on me are Selena Quintanilla- Pérez, and Madam CJ Walker. (May these two amazing women rest in peace) Selena Quintanilla-Pérez has made an impact on me with her smile and personality, and just her love for people. What truly has inspired me about her is just her want and thrive to help everyone and love and care for everyone. I love her drive to be a role model and how her family was always a first in her life. Her love and constant positive energy have truly been an inspiration to me, and I thrive to be more like her. Madam CJ Walker has inspired me not only as a woman but as a Black woman. As an entrepreneur, philanthropist, the first Black female millionaire, and a political and social activist her drive to better the world and break the chains that society put her in as a Black woman truly inspires me. Her story along with many other Black women and women in general are ones I look up to and ones I hope to continue to hope to see women around the world making. I hope that one day I am on the wall with these truly inspiring women with their amazing accomplishments.
Angelina
To me, Women's History Month is a time to reflect on and celebrate the many achievements attained, as a result of the hard work and sacrifices made by women in the past and present. From the ability to vote to fight for equal pay, women have persevered through adversity in order to push for change and advancement within society. Overall, Women's History Month affords all individuals the opportunity to honor, as well as learn from prominent women in history that have made significant contributions nationally and internationally. Moreover, the most memorable lesson a woman has taught me that has had a lasting impact came from my mother. My mother has always instilled in me that life is too short to overthink actions and peers and to always try to step out of my comfort zone to grow as a person. This has therefore allowed me to appreciate every day, learning from the good and bad moments, that will assist me in my future endeavors.
Destiny
To me, Women's History Month means celebrating all the diverse women who have paved the way for us and of course all the other women in the world. We as women have had to work for our place in society and we continue to show our strength every day. Every day women are making an impact whether big or small and we continue to fight for equal rights. I don't really have a specific woman who inspires me because all women inspire me. Every woman has had their own experiences and stories and all those all inspire me. Thank you to all women! You are all so strong and amazing! Happy Women's History Month!

Kavya
"There is no limit to what we as women can accomplish" - First Lady Michelle Obama. Throughout our global history, women like Rosalind Franklin, Dr. Katherine Johnson, and Kalpana Chawla have proven this by breaking the barriers of their times. Their courage, perseverance, and grace have inspired countless girls like me to reach new heights and transform our dreams into reality. National Women's History Month is a time where we can celebrate these forgotten female pioneers and draw inspiration from the impact they achieved. Along with recognizing the heroes of our history, we must continue to amplify and elevate the voices of young girls because they are the future!
For me, any female leader in STEM and business inspires me! I am always amazed by how they continue to challenge the status quo in these male-dominated fields. Their grit and resilience have encouraged me to relentlessly chase my dreams and be confident in who I am!

Sophia
To me, National Woman's Month is a period of time to recognize the strong women figures in each of our lives. It is important to note that although women should be appreciated every day, this month serves as a designated time to educate and advocate for the rights of women across the country. My mother has been the most influential person in my life and has taught me to always embrace my femininity. As a child, she has taught me that you do not need to depend on anyone but yourself. It is so important to always be confident in yourself to find your inner strength. Happy National Women's Month!
We use cookies to provide you a personalized experience. How we do this is by analyzing user behavior on our site and sharing data with our advertising and analytics partners. You consent to our cookie policy if you continue to use this website.