National Entrepreneurship Month
Author: Sanjana Suresh, Fireside Chat Coordinator / Digital Marketing & Communications Intern
Corporate Responsibility
Published: Monday, 21 Nov 2022
---
Sharing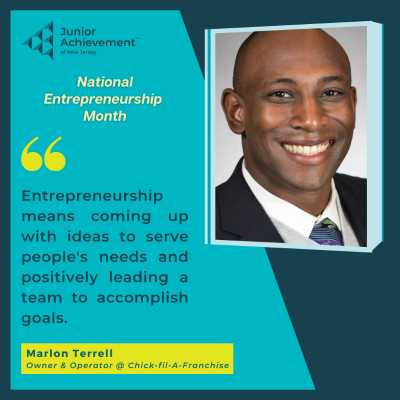 Image caption: National Entrepreneurship Month
Entrepreneurship is defined as "the activity of setting up a business or businesses, taking on financial risks in the hope of profit"(oup.com). Behind each entrepreneurial venture is at least one entrepreneur, or "an individual who creates a new business, bearing most of the risks and enjoying most of the rewards" (investopedia.com).
JA believes it is valuable to provide young people with an opportunity to engage with entrepreneurs in their communities to help them better understand the challenges and advantages of starting a business. One of these entrepreneurs is Marlon Terrell, Owner & Operator of two Chick-fil-A stores and valued JANJ Board Member. When asked about what entrepreneurship means to Marlon, he stated that "Entrepreneurship means coming up with ideas to serve people's needs and positively leading a team to accomplish goals." These two characteristics, the ability to satisfy people's needs and lead effectively, are paramount in a successful entrepreneur. It is also important to possess soft skills to be an effective leader and entrepreneur, including self-confidence, integrity, honesty, and accountability.
Marlon described the biggest challenge he faced as an entrepreneur was "leading a large team and developing a positive culture in which all can thrive." Organizational culture, or "the ensemble of beliefs, assumptions, value, norms, artifacts, symbols, actions, and language patterns shared by all members of an organization" (Britannica), is extremely important to consider in a business environment, especially as an entrepreneur. Without a successful organizational culture, employees may feel unmotivated, stressed, and detached from the work they are doing. However, with a successful organizational culture, employees' motivation, morale, and the purpose they find in their work will be significantly high, thus leading to more victories in the workplace.
Marlon's biggest piece of advice to aspiring entrepreneurs is to "come up with an idea but be willing to shift when you find out what your customer really needs." This piece of advice is crucial in finding success as an entrepreneur. Though you may believe you have a great idea, it may not be what customers truly want. It is important to conduct market research to understand what customers value and what they are willing to spend their money on. Without conducting your due diligence, there truly is no way to determine if your idea will prosper or fail.
Not only does JANJ value entrepreneurship this month, but every other month as well. Our programs, such as JA BizTown and JA Career Success, equip students with the skills and knowledge necessary to adopt and sustain an entrepreneurial mindset. Visit janj.ja.org/programs/index to learn more about all the JA programs available that will unleash the entrepreneur within you!
Sources:
Oxford Languages | The Home of Language Data (oup.com)
Entrepreneur: What It Means to Be One and How to Get Started (investopedia.com)
We use cookies to provide you a personalized experience. How we do this is by analyzing user behavior on our site and sharing data with our advertising and analytics partners. You consent to our cookie policy if you continue to use this website.