Leadership Spotlight: Christine LaCroix of Deloitte
Author: JANJ
Community Involvement
Published: Tuesday, 03 Nov 2020
---
Sharing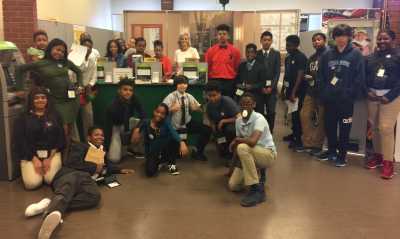 Image caption: Christine with Biztown Students
Christine LaCroix has invested four years as Chair of the JANJ State Board of Directors and is in her fifth year. In total she has served as a volunteer board member at JANJ for more than 20 years.
Early in her career, one of her mentors at Deloitte introduced her to JANJ. Deloitte is recognized as a corporation that focuses on community involvement and it was that aspect of employment that attracted Christine and has led to her spending 20 years there. Early in her career she was introduced to JANJ and found a non-profit who shared her spirit of community service aligned with a mission of teaching financial literacy and she knew she found a perfect match.
Christine started serving JANJ as a member of the Essex County Board. Since then it has been a match made in heaven. JANJ's executive leadership has come to rely on Christine and is grateful for her many years of support. Catherine Milone, President of JANJ says Christine is "one of JANJ's most remarkable champions."
When asked about what she likes about JANJ, Christine's list is long. When pressed further, she admits what she enjoys most is her interaction with students at JA BizTown, the Women's Future Leadership Forums and JA Finance Park.
Christine describes these interactions as energizing. "Meeting and talking to students who are learning about the importance of financial literacy enables me to leverage my knowledge and skill sets for the good of others, to help provide students with life and business experience that they may not receive in school or at home. I like to think I am able to provide another lens for these students to look through as they are learning and thinking about their future higher education aspirations."
At JANJ's Finance Park, Christine recalls the satisfaction in seeing something just "click" with students as they wrap their arms around the elements of life's financial challenges they will face heading into adulthood – all that is involved with paying bills and balancing budgets. "Finance Park prepares high school students with real life experiences that correlate with the roller coaster of life."
More than 100 Deloitte volunteers join with Christine in their love and respect for JANJ volunteering throughout the state to donate time and talent to the organization, serving on boards, as mentors and volunteering to help in any way they can.
When asked what she would say to encourage individuals and corporations to support JANJ, Christine says, "There is a demand for college educated workers but only one in four students is prepared for college. JANJ's programs absolutely improve the skills students needed to move onto college. Board participation, volunteering, mentoring, and corporate support all play a role in helping young people to build those skills. There is no greater feeling than using your skills to help others."
We use cookies to provide you a personalized experience. How we do this is by analyzing user behavior on our site and sharing data with our advertising and analytics partners. You consent to our cookie policy if you continue to use this website.