Leadership Spotlight: Caroline Armour of Verizon
Author: JANJ
Community Involvement
Published: Tuesday, 13 Apr 2021
---
Sharing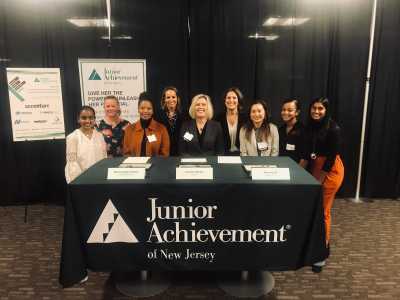 Image caption: Caroline Armour – Verizon – Consumer CFO
More than 10 years ago, a Verizon exec introduced me and the members of the Finance Team to Junior Achievement NJ . He asked us to consider becoming volunteers, to teach elements of life and financial skills to NJ's students. I participated and loved the experience. To be a part of teaching young people how piling up credit card debt can hurt them in the long run and how, while needed in many cases, student loans can follow them throughout their lifetimes, was fulfilling to me as a corporate finance person and to me as a mother of four children. My volunteer sessions left me feeling that JANJ fills a critical missing aspect of student life while creating an understanding of the life challenges that face adults who care for them.
I like to think of myself as an advocate for kids and as a person who gets great satisfaction out of teaching, mentoring and exposing youth to careers in STEM. I believe it was those qualities that led me to become an executive sponsor for JANJ and join their Governing Board.
In addition to classroom volunteering, I have also participated in BizTown and the Women's Leadership Forum. I loved seeing BizTown in person. The setting is completely interactive. There's nothing better than hands-on learning in a real-life setting. While it is easy to mix and mingle with students who are more outgoing and liked to ask questions, I made sure while I was at BizTown, to seek out others, the ones a little more afraid to engage… the ones who preferred to sit on the sidelines. I talked to them about the importance of participation and more importantly told them that I and the others gathered from some of the biggest corporate names from across the state are there for a reason: Because we care about each and every one of these students. We wanted students leaving BizTown to know that.
My JANJ experiences have helped me champion the JA mission throughout Verizon, whether through corporate support or through volunteer engagement. Verizon's commitment to JANJ and JA nationally runs deep.
I believe it is important to support JANJ because education and learning are the cornerstones of everything we do. JANJ helps develop the workforce of tomorrow, and also introduces Verizon to emerging talent. Swathi for example, a sophomore at Cornell University and one of JANJ's alum completed her first year as an intern in Verizon's Cyber Security Department this past summer. She did so well, she was invited back for a second year. There continues to be a war for talent, especially with computer science and engineering majors. Partnering with JA exposes young diverse talent to our companies. It's a win-win partnership!
We use cookies to provide you a personalized experience. How we do this is by analyzing user behavior on our site and sharing data with our advertising and analytics partners. You consent to our cookie policy if you continue to use this website.