Connecting with JANJ's new President & CEO
Author: Sanjana Suresh, Fireside Chat Coordinator / Digital Marketing & Communications Intern
Corporate Responsibility
Published: Monday, 10 Oct 2022
---
Sharing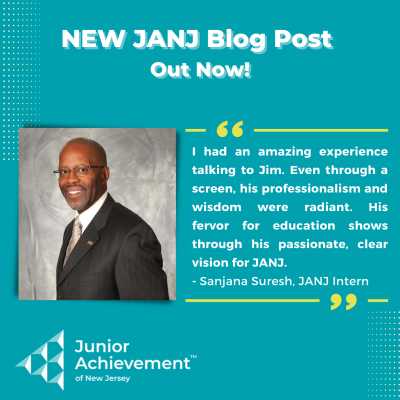 Image caption: JANJ President & CEO
As JANJ's Fireside Chat Coordinator, I had the pleasure of connecting with James Horne Jr., JANJ's new President! I compiled a list of questions and interviewed Jim to help JANJ's social media network get some personal insight into who he is and what he envisions for the future of the organization. In this blog post, I will write about the highlights of the interview and reflect on my chat with Jim.
To kick off the interview, I asked Jim about his career path and what led him to his current position at JANJ. Interestingly, he shared that he initially started his career in an entirely different industry: aviation production control and manufacturing. He then moved into the nonprofit space where he served as President & CEO at United Way of Greater Union County for 17 years. When the opportunity to lead JANJ came up earlier this year, he knew that it was a role he wanted to pursue.
Next, I asked Jim about his overall vision for JANJ, including any short-term or long-term goals he already had in mind. I also asked him if he is aiming to make any changes to JANJ's organizational culture to strengthen it even further. He noted that with the switch to virtual programming due to the pandemic, he looks forward to giving students the in-person JANJ experience again soon. As a former High School Hero, I completely agreed with Jim. The in-person connection between volunteers and students is invaluable. Whether in a classroom or JANJ's Education Center, in-person programming fosters incredible collaboration, communication, and curiosity. Jim also hopes to increase the use of technology to maximize efficiency across the board.
My next question for Jim shed light on his drive and determination. I asked him what the best piece of advice he ever received was. After some thought, he shared that he was told to "keep going and never give up", despite times getting tough, he now carries that advice with him in all facets of life. I followed that question up by asking him who serves as his biggest inspiration in life, and he proudly said that his aunt always inspired him. Whether it was in a professional, civic, philanthropic, or general manner, he stated that his aunt always guided him greatly and I could tell that he holds her very close to his heart.
I had an amazing experience talking to Jim. Even through a screen, his professionalism and wisdom were radiant. His fervor for education shows through his passionate, clear vision for JANJ. It was apparent to me that he highly values hard work and diligence but is very personable and caring. These qualities are paramount in a good leader, which Jim undeniably displays. I look forward to the impact that his leadership will have on JANJ and students across the state.
We use cookies to provide you a personalized experience. How we do this is by analyzing user behavior on our site and sharing data with our advertising and analytics partners. You consent to our cookie policy if you continue to use this website.