Blog #7: Guest Blogger - Aldonna R. Ambler, CMC, CSP
Author: Aldonna R. Ambler, CMC, CSP
Community Involvement
Published: Friday, 10 Apr 2020
---
Sharing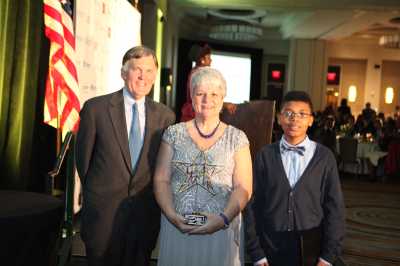 Three Traits Laureates of New Jersey Business Hall of Fame Share…
By: Aldonna R. AMBLER, CMC, CSP
The Growth Strategist, Inc.
The Laureates of New Jersey's Business Hall of Fame are people who create a better future.
Healthcare executive Amy Mansue led the expansion of the Children's Specialized Hospital. Now, Mansue is a top executive of RWJBarnabas Health… the chief experience officer, in fact. Mansue is an open-minded, well-rounded proponent of continuous improvement. Results are better when Mansue is involved.
While mainstream developers were comfortable replicating suburbia, visionary Peter Cocoziello traveled to densely populated areas of India, China and Japan to study urban trends, public transportation hubs, and the preferences of younger generations. Cocoziello could see that vibrant urban communities would play a key role in NJ's capacity to attract and retain top talent. It's no wonder his company's name is Advance Realty.
The Laureate Legacies of the New Jersey's Business Hall of Fame care about issues far greater than just the success of their organizations and their careers.
As the President & CEO of the New Jersey Chamber of Commerce, we have all heard Tom Bracken speak eloquently about the power of public/private partnerships and collaboration; approaches that are conducive to innovation; and many more business-related topics. But, if you want to see Tom take a bold stand, ask for his opinions and advice about the importance of infrastructure... especially sustained funding of the transportation trust fund. For over 40 years, Tom has been well-versed in the costs, risks, options, and return on investments in our state's roads, bridges, rails, and more.
Similarly, it is very educational to listen to Marjorie Perry of MZM Construction. Obviously, she knows a thing or two in running a successful construction company with major government and corporate contracts. Like Bracken, she cares about New Jersey's economy, especially its smaller privately-owned businesses. Her schedule always includes numerous motivational speeches, public advocacy, and mentoring.
A third trait NJ Biz Hall of Fame Laureates seem to embody is the capacity and desire to make others look good. They are confident leaders who help other people shine.
For example, Ralph Izzo, CEO of PSEG is a visionary and a very intelligent man. He could direct attention to himself, but instead he chooses to recognize the hard work of people in the field, raise money to help families of first responders or the military and look for ways to make NJ more viable for bright young people.
Sally Glick is another great example of making other people look good. As the marketing-focused partner of the regional accounting firm, Sobel & Co., Glick hosts some of NJ's most valuable, resourceful, and best-attended breakfasts and seminars. Frankly, if you haven't yet met Sally Glick, well... it would probably be a good idea to ask yourself why not.
Here, I mentioned just a few of the Business Hall of Fame's Laureate Legacies from throughout the years. But, each and every Laureate has been inducted into this prestigious Hall of Fame for their leadership and impact on society. I am so honored and proud to be recognized amongst this awe-inspiring group of state leaders.
I would be remiss if I didn't mention the incredible and impactful work that JA of New Jersey is doing to build our future state business leaders.
We use cookies to provide you a personalized experience. How we do this is by analyzing user behavior on our site and sharing data with our advertising and analytics partners. You consent to our cookie policy if you continue to use this website.