Blog #6: Guest Blogger - Chelsea Wong
Author: Chelsea Wong
Community Involvement
Published: Thursday, 26 Mar 2020
---
Sharing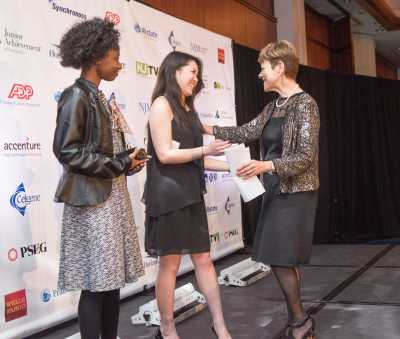 Opportunity. That is what JA gave me in 2017 when I was given the honor of introducing Ms. Sally Glick, the 2017 Laureate at the New Jersey Business Hall of Fame. In 2017, I was riding out the last waves of my high school career. After four great years with the Piscataway High School Future Business Leaders of America, I was happy to pass on the baton to a bigger and stronger chapter. In my senior year, there were a lot of events that signaled the end. There were graduation practices, college scholarship ceremonies, and last band concerts. In the midst of these events was the New Jersey Business Hall of Fame.
It was the very first event of its kind that I was invited to and I was even asked to introduce one of the Laureates of the night. That night gave me the opportunity to network with industry professionals that would follow me throughout my career. I was seated at a table with professionals from Prudential.
A few years later, I would invite those professionals I met to come to a networking dinner I hosted at Rutgers University called "Dining with the Distinguished." In speaking to a room of people older, and a lot more experienced than I am, I gained soft skills that would enable me to introduce myself to donors at Rutgers years later without fear.
At the end of it all, Ms. Glick sat me down, business card in hand. She knew that I intended to pursue a career path that she did not have direct ties to, but she took the time to meet me and explain to me about a network of women she is a part of. She wanted me to be a part of that network when I was at Rutgers. She was 100% ready to give me advice on any issue I had. That night I gained contacts in the business world that I would not have been able to fathom in any other setting. With JA, the gap between student and professional is bridged and opportunities like this bloom along the path.
We use cookies to provide you a personalized experience. How we do this is by analyzing user behavior on our site and sharing data with our advertising and analytics partners. You consent to our cookie policy if you continue to use this website.