Be Career Ready with Junior Achievement: Empowering Students for Success
Author: JANJ
Work Readiness
Published: Tuesday, 20 Jun 2023
---
Sharing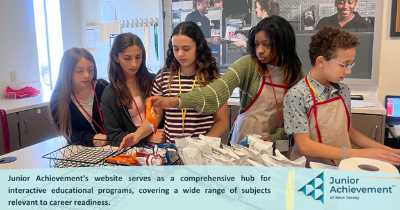 Image caption: Students at JANJ
In today's rapidly evolving job market, career readiness has become increasingly important for students transitioning from high school to the professional world. To address this crucial need, JA of New Jersey has emerged as a valuable resource, providing free online educational programs aimed at equipping students with the necessary skills and knowledge to thrive in their future careers. In this blog post, we will explore the concept of career readiness and delve into how JA's interactive educational resources can empower students and offer numerous benefits along their journey.
Inspire:
JA's commitment to empowering students aligns perfectly with the goal of career readiness. By fostering a student-focused approach, JA ensures that their resources are tailored to meet the needs and aspirations of young individuals. Whether students aspire to pursue a specific trade, launch their own business, or explore various industries, JA offers an array of programs designed to inspire and guide them towards achieving their career goals.
Learning:
JA's website serves as a comprehensive hub for interactive educational programs, covering a wide range of subjects relevant to career readiness. Let's explore some of the key programs offered:
Career Exploration:
JA provides students with opportunities to explore different career paths, understand industry trends, and gain insights into the skills and qualifications required for success. Through engaging online modules, students can discover their interests, learn about various professions, and make informed decisions about their future career choices.
Work-Readiness Skills:
Developing essential work-readiness skills is crucial for students transitioning into the workforce. JA offers programs that focus on building skills such as communication, problem-solving, teamwork, and critical thinking. These programs incorporate real-life scenarios, simulations, and interactive activities to prepare students for the demands of the professional world.
Entrepreneurship:
For students interested in starting their own businesses or becoming future innovators, JA offers programs that nurture entrepreneurial skills. Through hands-on experiences, students can learn about business planning, financial management, marketing strategies, and the importance of adaptability in an ever-changing business landscape.
Benefits:
Engaging with JA's free online educational resources yields several benefits for students, including:
Practical Application:
JA's programs emphasize practical application, enabling students to directly apply their learning to real-world situations. This hands-on approach equips them with the necessary skills, knowledge, and confidence to excel in their chosen careers.
Industry Connections:
Through JA's partnerships with various businesses and professionals, students gain exposure to industry experts who can provide valuable insights and mentorship. These connections facilitate networking opportunities, internships, and potential career pathways.
Self-Discovery and Confidence:
By exploring different career options and participating in interactive activities, students gain a deeper understanding of their strengths, passions, and potential career paths. This self-discovery process boosts their confidence and empowers them to pursue their goals with enthusiasm and determination.
To unlock the vast benefits of JA's free online educational resources and embark on a journey toward career readiness, JA USA Digital Resources.
Explore the programs available, engage with the interactive content, and take the first step towards a successful and fulfilling career.
Final Thoughts
Career readiness is a vital component of a student's transition from high school to the professional world. JA's commitment to providing free online educational resources serves as a catalyst for empowering students, offering valuable programs that facilitate career exploration, foster work-readiness skills, and nurture entrepreneurship. By leveraging JA's interactive educational resources, students can gain the knowledge, skills, and confidence necessary to embark on their career journey with purpose and determination.
We use cookies to provide you a personalized experience. How we do this is by analyzing user behavior on our site and sharing data with our advertising and analytics partners. You consent to our cookie policy if you continue to use this website.