2021 High School Hero Scholar Award Recipients Spotlight Series - Blog #4
Author: Sanjana Suresh, Fireside Chat Coordinator / Digital Marketing & Communications Intern
Corporate Responsibility
Published: Monday, 14 Nov 2022
---
Sharing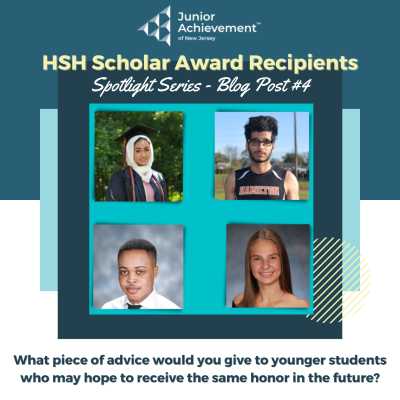 Image caption: 2021 HSH Scholar Award Recipients
Co-founded by Pamela Craig in 2015, the JA High School Hero Scholar Award recognizes outstanding students who have dedicated their time as classroom volunteers through JA's High School Heroes program, while promoting the importance of education and career readiness. Thanks to the tremendous generosity, vision, and leadership of Ms. Craig, the Scholar Award Initiative has helped shape the lives of young adults across New Jersey and will continue to for years to come.
Similarly, the Weber Capozzoli JROTC Scholar Award recognizes a Junior Reserve Officer Training Corps graduate who also served as a JA High School Hero. Matt Weber, a State Board member, and his wife, Lucia Capozzoli, created this Award in memory of Weber Capozzoli Family members who have served in the armed forces.
Due to Pamela, Matt & Lucia, and the Rita & Herbert Gold Foundation, their investments in this initiative will impact and continue to impact the lives of many students.
Additional special thanks to the Scholar Award Panel that also included: Pat Cozza from the State Board, Catherine Milone, and Andrew Whitten. Each panel member added immense value to the group.
This blog series will highlight four 2021 High School Hero Scholar Award Recipients, provide more insight into the role that JANJ played in these students' high school journeys, and dive into how receiving this honor has impacted their lives, both academically and personally.
The 2021 High School Hero Scholar Award Recipients who were interviewed for this series are Anum Fazal, Muhammad Mir, Oladimeji Adebowale, and Teresa Schmeiszer. When asked what piece of advice they would give younger students who may hope to receive the same honor in the future, they responded with the following:
"I would advise younger students to keep being their authentic selves and to not allow anything to limit their dreams." - Oladimeji Adebowale, New Jersey University City
"I would recommend that students incorporate other skills or talents in these programs. During my time at JA Day, I utilized my knowledge of other languages to facilitate conversations and convey instructions to students who were not as comfortable with English. By incorporating such skills or talents, you can further the mission of JANJ and empower even more students." - Muhammad Mir, Drew University
"High school is not easy; along the way, you find yourself navigating through many obstacles. My one piece of advice for younger students who hope to receive the High School Hero Scholar Award is to be a part of this program with the goal to make a change and learn, not just for the purpose of receiving the award. The goal is to teach students the importance of financial literacy and learn along the way, whether that be through some content you previously may not have known or by the skills you acquire during your experience. By doing these two things, it will open a plethora of opportunities for you if you truly allow yourself to grow because it is not an experience if it does not have an impact." - Anum Fazal, Rutgers University
"If I were to give one piece of advice to younger students who may hope to receive the same honor in the future, I would say to approach every JANJ experience they have with an open mind and willingness to learn. If you are participating in a JANJ experience to be able to skip a day of school, then you are not in it for the right reasons. Participate in JANJ to be able to learn in new ways that you may not encounter in a traditional high school classroom setting and continue to build skills that you will take with you throughout life." - Teresa Schmeiszer, Northeastern University
JANJ programming is meant to inspire and empower youth across the state. It is undeniable that these High School Hero Scholars truly felt that mission during their time in the classroom as High School Heroes. To all students interested in participating in a JANJ program: pursue it! The impact you will have and the memories you will take away from the experience are invaluable. Thank you to everyone who tuned into this 4-part blog series, and a special thank you to Ola, Muhammad, Anum, and Teresa for such helpful insights and thorough responses!
We use cookies to provide you a personalized experience. How we do this is by analyzing user behavior on our site and sharing data with our advertising and analytics partners. You consent to our cookie policy if you continue to use this website.