2021 High School Hero Scholar Award Recipients Spotlight Series - Blog #3
Author: Sanjana Suresh, Fireside Chat Coordinator / Digital Marketing & Communications Intern
Corporate Responsibility
Published: Monday, 07 Nov 2022
---
Sharing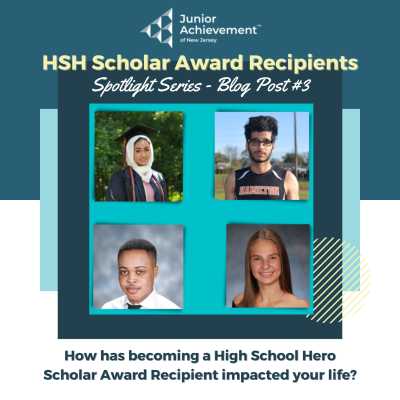 Image caption: 2021 HSH Scholar Award Recipients
Co-founded by Pamela Craig in 2015, the JA High School Hero Scholar Award recognizes outstanding students who have dedicated their time as classroom volunteers through JA's High School Heroes program, while promoting the importance of education and career readiness. Thanks to the tremendous generosity, vision, and leadership of Ms. Craig, the Scholar Award Initiative has helped shape the lives of young adults across New Jersey and will continue to for years to come.
Similarly, the Weber Capozzoli JROTC Scholar Award recognizes a Junior Reserve Officer Training Corps graduate who also served as a JA High School Hero. Matt Weber, a State Board member, and his wife, Lucia Capozzoli, created this Award in memory of Weber Capozzoli Family members who have served in the armed forces.
Due to Pamela, Matt & Lucia, and the Rita & Herbert Gold Foundation, their investments in this initiative will impact and continue to impact the lives of many students.
Additional special thanks to the Scholar Award Panel that also included: Pat Cozza from the State Board, Catherine Milone, and Andrew Whitten. Each panel member added immense value to the group.
This blog series will highlight four 2021 High School Hero Scholar Award Recipients, provide more insight into the role that JANJ played in these students' high school journeys, and dive into how receiving this honor has impacted their lives, both academically and personally.
The 2021 High School Hero Scholar Award Recipients who were interviewed for this series are Anum Fazal, Muhammad Mir, Oladimeji Adebowale, and Teresa Schmeiszer. When asked how becoming a High School Hero Scholar Award recipient has impacted their lives, they responded with the following:
"JANJ stands as an important part of my life and journey as it has had such a large impact on my life. As I mentioned, through the High School Heroes program, I found myself putting the skills JANJ taught me to the test. Not only did they make me a better student, but an even better person. I continue to apply the traits JANJ has taught me in my life now. Through this program, I also had the amazing opportunity to work with the JANJ team for the New Jersey Business Hall of Fame in 2021. With the help of JANJ, I was able to interview Steve Rusckowski, President and CEO at Quest Diagnostics. This was truly an incredible opportunity that I had never imagined receiving. I was honored to be given such an opportunity by JANJ and upon receiving it, I was able to learn many skills regarding professional interviewing. JANJ has many opportunities to offer, my experience started off with teaching children in an elementary school classroom and was able to take me to interviewing Steve Rusckowski at the headquarters of Quest Diagnostics. The lessons JANJ has taught me along the way are immeasurable." -Anum Fazal, Rutgers University
"Being a recipient of such an honor has been rewarding and meaningful. It showed me JANJ cared about my personal story and passion for the programs they provide. It feels incredible to be recognized in this manner. The scholarship provided some financial relief which I greatly appreciated and it enabled me to focus more on my education." -Muhammad Mir, Drew University
"Being a HSH scholar award recipient has impacted my life mentally and financially. This is because it has taught me that hard work and dedication pays off. Due to this, I always remind myself not to give up." -Oladimeji Adebowale, New Jersey City University
"Being a HSH Scholar Award Recipient impacted my life because it has already helped me throughout my first year of college. My major is mechanical engineering, so in my first year, I had to take a class that covered the basics of various kinds of coding. My first semester, I used my MacBook that I used throughout high school as well; however, I quickly learned that a lot of these coding programs run much more efficiently on a Windows laptop. Thankfully, I had won the HSH Scholar Award and with the money I won, I was able to buy myself a Windows laptop for my second semester. This purchase changed my coding experience greatly and made it much easier for me to learn. Without having to worry about how the program would run on my computer or what steps I needed to go through to make sure the program runs efficiently, I could focus on just the coding, thus making my learning much more effective. Without the HSH Scholar Award money, I would not have been able to make this purchase, and it would have taken a lot more consideration on whether or not I would be able to invest money into a new laptop." -Teresa Schmeiszer, Northeastern University
Upon reading all of their responses, it is clear that receiving the High School Hero Scholar Award helped these recipients feel appreciated for their contributions to JANJ and allowed them to focus on school by giving them some financial relief. All JANJ volunteers are extremely appreciated, and recognizing exceptional efforts through honors such as the High School Hero Scholar Award is one of the many ways that JANJ shows that appreciation. Stay tuned for the last blog post in this series that will delve into pieces of advice these recipients would give to younger students who may hope to receive the same honor in the future!
We use cookies to provide you a personalized experience. How we do this is by analyzing user behavior on our site and sharing data with our advertising and analytics partners. You consent to our cookie policy if you continue to use this website.