2021 HIGH SCHOOL HERO SCHOLAR AWARD RECIPIENTS SPOTLIGHT SERIES - Blog #2
Blog Post # 2 - Why did you decide to get involved with JANJ and would you recommend that other students do the same?
Author: Sanjana Suresh, Fireside Chat Coordinator / Digital Marketing & Communications Intern
Corporate Responsibility
Published: Monday, 24 Oct 2022
---
Sharing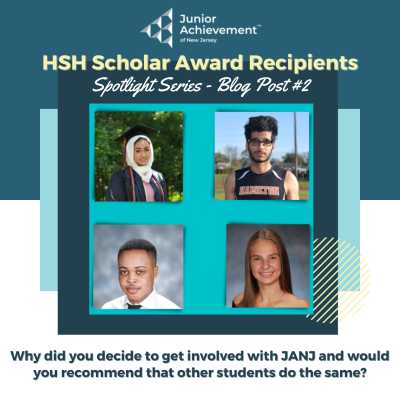 Image caption: Blog post #2
Co-founded by Pamela Craig in 2015, the JA High School Hero Scholar Award recognizes outstanding students who have dedicated their time as classroom volunteers through JA's High School Heroes program, while promoting the importance of education and career readiness. Thanks to the tremendous generosity, vision, and leadership of Ms. Craig, the Scholar Award Initiative has helped shape the lives of young adults across New Jersey and will continue to for years to come.

Similarly, the Weber Capozzoli JROTC Scholar Award recognizes a Junior Reserve Officer Training Corps graduate who also served as a JA High School Hero. Matt Weber, a State Board member, and his wife, Lucia Capozzoli, created this Award in memory of Weber Capozzoli Family members who have served in the armed forces.
Due to Pamela, Matt & Lucia, and the Rita & Herbert Gold Foundation, their investments in this initiative will impact and continue to impact the lives of many students.

Additional special thanks to the Scholar Award Panel that also included: Pat Cozza from the State Board, Catherine Milone, and Andrew Whitten. Each panel member added immense value to the group.

This blog series will highlight four 2021 High School Hero Scholar Award Recipients, provide more insight into the role that JANJ played in these students' high school journeys, and dive into how receiving this honor has impacted their lives, both academically and personally.

The 2021 High School Hero Scholar Award Recipients who were interviewed for this series are Anum Fazal, Muhammad Mir, Oladimeji Adebowale, and Teresa Schmeiszer. When asked why they decided to get involved with JANJ and if they would recommend that other students do the same, they responded with the following:

"I was introduced to the JANJ program by two of my high school teachers who encouraged me to try it. I had loved working with children, volunteering, and I was interested in business so I thought I would give it a try. After my first experience, I was so amazed by the program and children's responses that I kept going back as many times as I could. I would definitely recommend that other students get involved because JANJ really teaches you life skills that you may not be able to learn anywhere else in the same way. I acquired skills such as time management, confident speaking, working with others, planning ahead, and organization. I did not immediately notice it, but as I grew during my four years of high school, I found myself applying these skills and they shaped me to be the person I am and have allowed me to accomplish so much." -Anum Fazal, Rutgers University

"I decided to get involved with JANJ partly because I loved working with kids and partly because I loved explaining things. I was involved in another program in high school called "Big Brother and Big Sister" which was similar to JA Day, but I specifically worked with one child across my four years of high school and served as a "big brother." In both Big Brother and Big Sister and JA Day, I explained different concepts and found innovative ways to deliver my message in a package that my audience could digest. Sometimes, it was a challenge to explain something or test if the students understood the prompt, and I had to get creative in my teaching. Overall, I personally enjoyed working with children and seeing their faces light up when I described something in a way they could understand. I would recommend that students try JA Day if they can, not only because you will have a great time with your class, but because you will leave an everlasting impact on the children. They admire the older students who come to teach them and if the opportunity is utilized correctly, you could have a positive influence in their lives forever." -Muhammad Mir, Drew University
"The reason I got involved with JA was to touch the lives of younger students positively, and I did that by attending the High School Heroes outreach programs. From reading books to elementary and middle school students to teaching them about financial literacy, the smiles on their faces afterwards were priceless. This is why I am so glad to be a Programs Intern at JANJ, it has helped me continue to be a positive influence. I would definitely recommend JA to students all over the world." -Oladimeji Adebowale, New Jersey City University

"I decided to get involved with JANJ because I loved the idea of being able to work with elementary schools in my district. I fondly remember having high school students come to my elementary school classrooms as a teacher's assistant or something similar when I was in elementary school myself. Whenever they came, it was so exciting to have the chance to speak to them because they seemed so grown up. Everyone looked up to them and could not wait to be in high school as well. Therefore, when I heard about JANJ, I thought it would be my opportunity to hopefully be a high school student that an elementary school student could look up to. I wanted to be someone they could come to connect with, ask questions to, and hopefully view as a role model. I would most definitely recommend JANJ to other students because it is a great learning opportunity and a fun time. Time in the elementary school classroom is bound to be filled with laughs and lots of smiles, as well as lots of learning. My experiences with JANJ have taught me new kinds of patience and ways to connect with young children, as well as how to make learning fun for them. Every time I stepped into a new classroom with JANJ, I knew there was a challenge ahead of me, but it was always so rewarding." -Teresa Schmeiszer, Northeastern University

From all of their responses, the common consensus is that getting involved with JANJ is a rewarding decision! Whether you join as a volunteer or a student, JANJ has something to offer everyone. The impactful role that volunteers play and the hands-on experience that students get by participating in JANJ programming is an opportunity like no other. The connection truly goes beyond simply what is taught in the classroom by roping in real-life experiences. Stay tuned for the next blog post in this series that will go into depth about how being a High School Hero Scholar Award Recipient has impacted the lives of Ola, Muhammad, Anum, and Teresa!
We use cookies to provide you a personalized experience. How we do this is by analyzing user behavior on our site and sharing data with our advertising and analytics partners. You consent to our cookie policy if you continue to use this website.