2021 High School Hero Scholar Award Recipients Spotlight Series
Catching Up With the 2021 Scholar Award Recipients
Author: Sanjana Suresh, Fireside Chat Coordinator / Digital Marketing & Communications Intern
Corporate Responsibility
Published: Friday, 30 Sep 2022
---
Sharing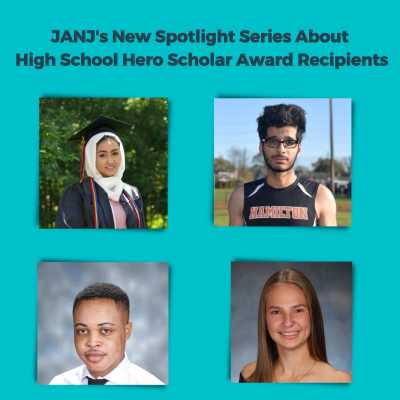 Image caption: 2021 Scholar Award Recipients
Co-founded by Pamela Craig in 2015, the JA High School Hero Scholar Award recognizes outstanding students who have dedicated their time as classroom volunteers through JA's High School Heroes program, while promoting the importance of education and career readiness. Thanks to the tremendous generosity, vision, and leadership of Ms. Craig, the Scholar Award Initiative has helped shape the lives of young adults across New Jersey and will continue to for years to come.
Similarly, the Weber Capozzoli JROTC Scholar Award recognizes a Junior Reserve Officer Training Corps graduate who also served as a JA High School Hero. Matt Weber, a State Board member, and his wife, Lucia Capozzoli, created this Award in memory of Weber Capozzoli Family members who have served in the armed forces.
Due to Pamela, Matt & Lucia, and the Rita & Herbert Gold Foundation, their investments in this initiative will impact and continue to impact the lives of many students.
Additional special thanks to the Scholar Award Panel that also included: Pat Cozza from the State Board, Catherine Milone, and Andrew Whitten. Each panel member added immense value to the group.
This blog series will highlight four 2021 High School Hero Scholar Award Recipients, provide more insight into the role that JANJ played in these students' high school journeys, and dive into how receiving this honor has impacted their lives, both academically and personally.
The 2021 High School Hero Scholar Award Recipients who were interviewed for this series are Anum Fazal, Muhammad Mir, Oladimeji Adebowale, and Teresa Schmeiszer. When asked to describe their involvement with JANJ in high school, they responded with the following:
"In high school, I volunteered to go to elementary schools as a JANJ High School Hero and teach children about financial literacy. My first time was during the beginning of my freshman year, and even as a high schooler, I was quite nervous to teach young children. By the time those few hours ended, not only was my nervousness gone, but I had so much fun that time had gone by faster than anticipated. From that first experience, I unknowingly took away so many skills that JA gave me the opportunity to learn, and based on such a satisfying experience, I took advantage of every opportunity presented to me during the rest of my years in high school. Every time I went into a new classroom or taught a different grade level, I learned alongside the children. What I was teaching them was more than just the basics of wants and needs, but they were life lessons that they would grow concepts upon. In return, they taught me skills that I have further developed and will always use in my education and professional life." -Anum Fazal, Rutgers University

"In high school, I was involved in JANJ through JA Day. This day occurred a few times throughout the school year. As high school students, we would travel to a local elementary school and our task was to be the teachers of the elementary school students for the day. You could choose which grade you wanted to instruct and depending on your selection, you would present several lessons about a specific topic to your assigned class. I have participated in this program every time my high school offered it because I loved working with children and the message behind the program!" -Muhammad Mir, Drew University

"In high school, I was in a program called JROTC which introduced me to Junior Achievement as a whole. I participated in Junior Achievement activities, such as Finance Park, High School Heroes, and many more." -Oladimeji Adebowale, New Jersey City University

"Throughout freshman, sophomore, and the beginning of junior year until the pandemic began, I went on multiple JANJ trips per year. I particularly looked forward to the ones at my former elementary school because some of my former teachers still worked there. I believe I went to three elementary schools in my district throughout my time with JANJ." -Teresa Schmeiszer, Northeastern University
From all their responses, these High School Hero Scholars truly valued having a direct impact on young students' lives, and experienced personal growth by being on the other side of the classroom for the first time. This is the exact goal of JANJ programming: creating meaningful experiences, as well as demonstrating the power of mentorship and social-emotional learning that is the cornerstone of JA.
Stay tuned for the next blog post in this series that will explore why these High School Hero Scholars initially decided to get involved with JANJ, and what their recommendations are for current high school students interested in participating!
We use cookies to provide you a personalized experience. How we do this is by analyzing user behavior on our site and sharing data with our advertising and analytics partners. You consent to our cookie policy if you continue to use this website.