Register Your School at BizTown!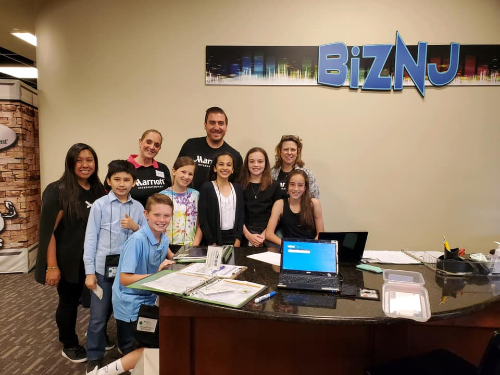 Register Your School for BizTown!

JA BizTown is a standards-based 21st Century experiential learning curriculum designed for fifth and sixth grade students to learn the importance of work readiness, entrepreneurship, and financial literacy.

The program starts with 13 teacher-taught lessons and culminates with a day-long field trip to the volunteer-assisted simulated mini-city of JA BizTown. Here, students apply what they've learned in the classroom to "real life" as they role play in 14 different store-fronts, including a bank, retail store, radio station, city hall, and more in jobs such as CEOs, CFOs, tellers, medical technologist, and town mayor. In managing their businesses and acting as responsible citizens and wise consumers, JA BizTown students strive to create a successful economy.


JA BizTown - How It Works...
JA staff trains educators on how to effectively deliver BizTown curriculum in their classroom. Teacher training takes approximately 1 hour and is done in-person at the JA Education Center.
After the training educators receives a curriculum guide including a workbook for each student and a small BizTown kit including additional learning materials.
After the completion of the classroom lessons, students put their new skills to the test during a hands-on, reality based simulation at JA's Education Center that puts student in the shoes o

f an adult for the day, and require them to make the tough financial decisions necessary to maximize resources and avoid debt.
BizTown Simulation at JA Education Center:
At the JA BizTown Simulation, groups of students are paired with volunteer mentors, business professionals, community role models and/or parents from the school to guide students through the simulation activity and share their education, career, and life experience with the students throughout the day. Students must bring their own lunch. Only cost to schools is transportation
Upon arrival, students will role play as Mayor, CEO, CFO, or other various business jobs.

They will be in charge of managing their own staff, financial resources, and customers.

Students will get to apply financial concepts they learned in the classroom through recognizing business expenses and earning revenue for their business.

At the same time, students will learn the different responsibilities as a citizen such as voting, getting health insurance, and opening up a savings account.

Throughout the day, volunteers will assist students in encouraging leadership, problem solving, collaboration, and communication skills.

At the end of the field trip, students, volunteers, staff, and teachers will gather to discuss any lessons learned and key takeaways.
Register Your School Today!
We use cookies to provide you a personalized experience. How we do this is by analyzing user behavior on our site and sharing data with our advertising and analytics partners. You consent to our cookie policy if you continue to use this website.