Junior Achievement Honors: Davis, Flynn and Guadagno
Author: GEORGE N. SALIBA, NJ Businees
Community Involvement
Published: Friday, 12 Apr 2019
---
Sharing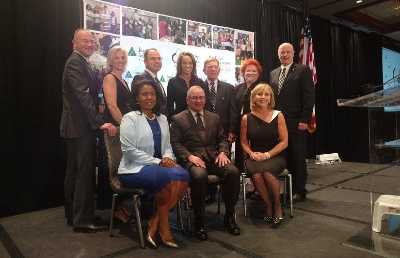 In a ballroom teeming with both business leaders and students, Junior Achievement of New Jersey (JANJ) last night inducted three new laureates into its New Jersey Business Hall of Fame: Michellene Davis, Esq., executive vice president, chief corporate affairs officer at RWJBarnabas Health; Bernie Flynn, retired president and CEO of NJM Insurance Group; and former Lt. Governor Kim Guadagno (now a partner at the law firm Connell Foley). The event was held at the Hyatt Regency New Brunswick.
Highlighting the synergies between corporate/community volunteers and Junior Achievement students, Event Chair John Cusano, Jr., of Accenture, told the audience, "JA students are truly different, and differentiated. And what sets them apart is all of you; you and all your companies; the time you invest; the resources you give to them; and the experiences that you share with them, especially when you are personally engaged in the programming. Because of that and the time that you spend, JA students are better communicators, collaborators, networkers, presenters, leaders – and more."
He added, "[JA students] know how to crack the code and compete through technology. They can think like entrepreneurs, budget and invest like adults, and print marketing programs to generate successful businesses."
With Junior Achievement's student ambassadors and others in the room, inductee Bernie Flynn, said, "I would like to repeat some practical advice for our students that has been given by past laureats at this dinner: Network. By that, I mean introduce yourselves to adults who are here, particularly those who are at your table. Ask them who they work for, what they do for a living, and why they came to this dinner. Ask for their business card. Follow up with an e-mail, saying, 'It was nice to meet you.' Making that kind of connection is called networking."
RWJBarnabas Health's Davis said, "I have the fortunate opportunity to indeed work with the largest healthcare system in the State of New Jersey, but most importantly, I work with the most incredible individuals who care so much about the work that we do. They understand that every pen they pick up, and every piece of paper they put down really is about trying to ensure that individuals of every background have an opportunity to grow up healthy and strong in their communities."
Former Lt. Governor Kim Guadagno gave special thanks to her husband, and also complimented others, adding, "Junior Achievement: I have been in this room very often and not often enough: Everything Michellene and Bernie and the children have said times two, for what you do; you give them more than just a little help; more than just a little hope. You give them a whole room full of people that believe in them. And I don't think you can put a price tag on that."
Junior Achievement is 100 years old, and beyond last night's Business Hall of Fame Event, it now benefits more than 80,000 Garden State children with its wide array of success-minded programs.
Junior Achievement says its mission is to "inspire and prepare young people in grades K-12 to succeed in a global economy through real world relationships with business, government, and education partners that can help them develop the employability and financial literacy skills needed to succeed in the 21st century."
We use cookies to provide you a personalized experience. How we do this is by analyzing user behavior on our site and sharing data with our advertising and analytics partners. You consent to our cookie policy if you continue to use this website.