2022 Back-to-School Survey: One-Third of Teens Say Rising Cost of School Supplies a Concern
Author: Kelsey Matzinger
Financial Literacy
Published: Thursday, 28 Jul 2022
---
Sharing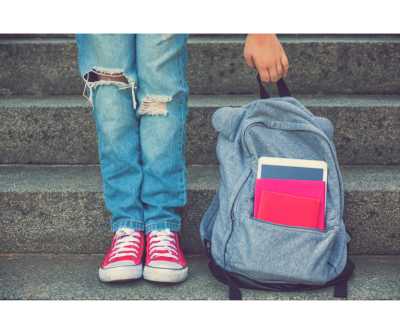 Image caption: A student holding a backpack with school supplies in it.
It is the beginning of August and your child's school sends you their list for back-to-school supplies. As you walk into Walmart or Target, your child's face lights up with excitement as they look at crayons, glue, new notebooks, and folders with their favorite characters on them, and as a parent, you want to give them the world, but on the other hand, money is a bit tight this year.
Going back to school is always an exciting time of year. Students get reconnected with their friends, tell them about all the exciting things they did over the summer, and typically have a fresh look with new school supplies. However, the back-to-school season can be stressful for parents, especially with today's high inflation rates. The United States, and really the world, is experiencing the highest rate of inflation in more than four decades. A major contributor to the high inflation rates…the pandemic. The COVID-19 pandemic put a kink into the global supply chain causing a shortage of goods and increasing the demand and the prices people are willing to pay.
What does this mean for back-to-school costs?
According to a new survey by Junior Achievement USA, a third of teens (33%) say that their parents or guardians are concerned about the cost of back-to-school supplies this year. A higher percentage of teens (37%) express concern they will not be able to get every item they need for back-to-school, and nearly as many (34%) say they have depended on teachers, community donations, and other sources to get supplies in past school years. The survey of 1,004 U.S. teens between the ages of 13 and 17 was conducted from July 5 through 10 by Big Village.
Teens were also asked how much they thought their back-to-school supplies would cost this year. The average estimated cost was $238. However, according to a recent back-to-school survey by Deloitte, parents estimate the average cost will actually be $661 per student which is up 27% from 2019.
How can you help?
If you are able, you can donate school supplies to local school supply drives or your child's classroom/school. According to Forbes, the top school supplies to donate are art supplies (crayons, construction paper, glue, etc.), backpacks, calculators, cleaning supplies, laptops/tablets, notebooks, and writing instruments.
So, when will normalcy be restored?
While it's hard to predict when inflation rates will start to go down, the supply chain will start to recover as the effects of the pandemic start to diminish.
To help parents and guardians talk to their kids about inflation, Junior Achievement USA released A Parents' Guide: Talking to Your Kids About Inflation. Written at a level young people can understand, the guide explains what causes inflation and what can be done about it.
Methodology of JA USA's Survey
This Youth CARAVAN survey was conducted by Big Village among a sample of 1,004 13-17-year-olds. This survey was live on July 5-10, 2022.
Respondents for this survey were selected from among those who have volunteered to participate in online surveys and polls. All sample surveys and polls may be subject to multiple sources of error, including, but not limited to sampling error, coverage error, error associated with nonresponse, error associated with question wording and response options, and post-survey weighting and adjustments. It is nationally representative with set quotas based on census data. The 1,004 completes are all who qualified and completed based on the demographic quota requirements. The MoE is +/- 3.1%.
We use cookies to provide you a personalized experience. How we do this is by analyzing user behavior on our site and sharing data with our advertising and analytics partners. You consent to our cookie policy if you continue to use this website.