The Guide to Buying Your First Car
Author: Hannah Henry
Work Readiness
Published: Tuesday, 05 Feb 2019
---
Sharing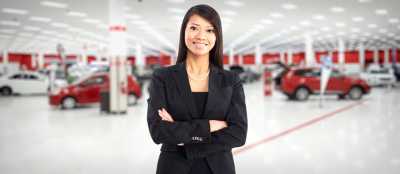 Buying your first car is an exciting time. While the new car smell and shiny detailing may steal your heart, it could be the most significant investment that you don't receive a return on.
By the end of 2017, Americans had $568.6 billion of debt buckled into auto loans. If that statistic doesn't scare you, in the first quarter of 2018, 4.3% of all auto loans were at least 90 days late.
To set yourself (or your teen) up for success when purchasing a car for the first time, here is our driver's crash course in car buying!
Budget
Before you even start searching for a vehicle, determine what you can afford. Look at all of your expenses, evaluate how much insurance will cost each month, what you can afford when it comes to filling your car up with gas, what you may be spending in repairs, and what you can afford to put down on the vehicle.
Financing Options
While financing may be available to you, keep in mind that for teens under 18 years old, a parent's name may be required on a loan application form. The primary reason a teen may need a co-signer is due to their lack of credit history and therefore an absence of a credit score. A co-signer is a friend or family member that has good credit and who will be paying for your loan if you are not able to. While it is common for parents to co-sign on loans for young car buyers, it's crucial to outline what your loan expectations are with the individual who may be signing alongside you.
Start Your Engines
Once you have established what you can afford, it's time to look at what you need in a vehicle. To start, establish if you will need an AWD, front wheel drive, or rear wheel drive, etc. Look at the gas mileage for the vehicles that have the drive type you are looking for, determine what mileage range would be ideal, and then identify a make and model that fits the criteria.
Navigating a Dealership
Wherever you may be looking for a car, the goal for the seller is to make as much as they can from the sale. You, as the buyer, have a responsibility to be as thorough as possible with all negotiations. From your research, you should be able to evaluate the value of the vehicle you are looking for with a specified number of miles would cost, be sure to use your research to negotiate. In a survey of car buyers, 62% of millennial women felt pressured to purchase a car right away when visiting a dealership and almost half (49%) of the women felt as if they were being tricked into buying features they didn't need. In the end, don't be afraid to walk off of a car dealership empty-handed. It's better than driving off the lot feeling taken advantage of. If negotiation isn't your strong suit or if you have yet to be in a "haggling" circumstance, check out these tips for negotiating with a car dealer!
We use cookies to provide you a personalized experience. How we do this is by analyzing user behavior on our site and sharing data with our advertising and analytics partners. You consent to our cookie policy if you continue to use this website.