High School Milestones for Financial Success
Author: Hannah Henry
Financial Literacy
Published: Tuesday, 09 Jul 2019
---
Sharing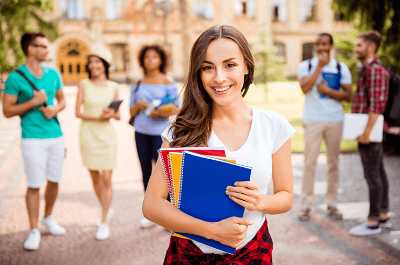 Image caption: Student holding books.
It seems that most adult steps we take happen when we are in high school. We learn to drive, plan for our upcoming future, and take the long leaps and bounds that come with gaining independence. The classes and life lessons learned all seem to come together in this life stage.
But, are teens really prepared for all that life has to offer after walking off the stage with their high school diploma?
When asked about teens' financial goals for the future…
62% planned on getting a full-time job
59% of teens plan to graduate from a four-year college
53% plan to not rely on their parents or caregivers for money
Yet, of the teens surveyed in the Junior Achievement Teens & Personal Finance survey, only 33% answered that sticking to a budget was a goal.
Of the goals reported as being the most important to the teens in this study, their top concerns were as followed:
47% are concerned about paying for college
45% are worried they won't be able to afford to live on their own
40% are stressed about finding a well-paying job
What does this study show us? Teens are thinking about their future but not financially planning in advance in order to achieve their goals. When these teens were asked where they seek financial advice and information, more than half (64%) reported going to their parents or caregivers. To make it easier for parents and caregivers to start the conversation at home, here are some milestones to keep in mind that your teen will be experiencing soon, and how you can help them overcome any obstacle that may stand in their way.
Freshman Year
Average age: 14-15
During your student's freshman year, he or she will be experiencing a lot of transition. Teaching styles will be different and a more "tough love" method will be used throughout their next four-years to ensure they are ready for their next chapter. By this stage in your student's life, they should already understand credit and debt, budgeting, have a savings account opened at a bank with their own debit card, have financial goals for the future established, and should be practicing their impulse control with "needs" over "wants".
Student Jobs
This is a perfect age to be discussing with your child their plans for getting a summer job or a part-time job after school. By encouraging your student to do so, you will be allowing them to grow more independent financially and personally. Have them talk with family friends to see if there are any opportunities for work. Jobs may include: cutting the lawn regularly, dog walking, babysitting or summer nannying, etc. Keep in mind, at this age your child does not have their license, which means whatever job they choose if it's not in bike-riding distance, you may need to be their ride.
Transportation
There's a reason 16 is so sweet. Not only will your child no longer rely on you for a ride to school or to any functions, but they will be able to rely on themselves. While every household is different and some parents may want their high schooler to wait to get his or her license, we highly recommend that the "car talk" has been or will be discussed by freshman year. Be sure to identify what your expectations are of them financially for the car, what is included in paying for a car (insurance, maintenance, gas, etc.).
Game Plan for the Future
Before this moment in their life, your student might have discussed "when I grow up…" dreams. At this point, they need to evaluate those dreams into which will make it to their reality. Do they want to go into a trade-school or attend college? What are their passions? What experiences should they be gathering now to help them determine the path they should go down? Creating a list of all of the careers that interest them is a great way to start. From there look at the pros and cons, how much it would cost to become certified or receive a degree for each of the careers, how much does the average employee in this line of work make, will it be enough income to pay for life-expenses as well as paying back any loans for school? All of these factors should be addressed while they are considering the first chapter of their professional life.
Sophomore Year
Average age: 15-16
Car Ownership
By your student's sophomore year, he or she is adjusting to high school life, the increased stress of projects, homework, and exams; they are also learning from their peers. At age 15 to 16, students are driving and receiving cars. It's important at this stage to remind your child about the expenses that go into car ownership. Typically, students don't discuss finances as very few are able to work full-time while balancing school and therefore are not struggling with the balancing act of it all.
Earlier, as a freshman or even sooner, the talk of purchasing and owning a car should have been discussed with your student. The discussion should have prepared everyone for the day he or she receives their license and are now free to cruise the open road.
Continuing the Future Talk
We all remember getting asked "So, what's your plan for after high school?" or "What do you want to study or go into as a career?". For the majority of us, this question sent our brain in overdrive and sent you in to a wave of panic. Everything that JA teaches is meant to start the conversation to bring awareness and education to topics that students don't typically face until the minute they are supposed to have it all figured out. Having conversations earlier and continuously provides an opportunity to assist your student in their life journey. By now, the list that you and your student made should be revisited regularly and he or she should begin to identify the career path he or she is wanting to place an emphasis on. This is a great time for them to start looking at possible summer internships to gain experience in the line of work they think they want to be in, it also is an opportunity for them to learn the value of a dollar and put some "skin in the game" when it comes to their finances.
Junior Year
Average age: 16-17
At this stage in high school, your student should know what path he or she needs to take. ACT and SATs are coming up and decisions need to be made. Let the stressing begin!
Paying for Continued Education
What is the price tag for a student attending a university? According to the College Board, the average cost of tuition and fees in 2017-2018 were a whopping $9,970 for state residents at public colleges and $25,620 for out of state residents attending public universities. While the cost of higher education is well-known from experience or from the open-discussion around it; other paths also have costs associated. The "average" trade school degree costs $33,000. While it is significantly less than the average cost of $127,000 for a bachelor's degree, most of us don't have that kind of money sitting around. Keep in mind, these costs don't even include the college application fees which costs between $25 to $90 each. It all adds up fast. The decision your student makes will determine how much they will owe regardless if they go the college route or the trade school route.
Senior Year
Average age: 17-18
Congratulations! You and your student have made it to the final year, 12th grade! By now, your soon-to-be high school grad has the next chapter planned out in terms of what they are going to do professionally. While it might seem easy enough to send them to their trade school or college and let them "adult" on their own, conversations still need to be had like housing costs, budgeting for necessities like food, getting a job and balancing college, life, AND working towards a future career.
To assist your discussions with your student, check out JA Apps here!
We use cookies to provide you a personalized experience. How we do this is by analyzing user behavior on our site and sharing data with our advertising and analytics partners. You consent to our cookie policy if you continue to use this website.