Upcoming Virtual Workshops
View below for more details about our upcoming virtual workshops for students, educators, and volunteers!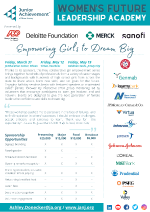 Women's Future Leadership Academy
Date: Winter 2021 Schedule – Tuesdays 2-3PM

This collaborative, 8-week virtual series will bring women leaders and high school girls from New Jersey together to share advice, build skills for success, and set goals for the future. The program is free and open to all NJ high school students. Weekly topics led by dynamic women mentors representing NJ's businesses and industries include informational presentations, collaborative small group activities, and optional Friday reflection sessions. Students may register for any or all sessions, and those who complete five or more sessions and submit a final project will receive JANJ's Certificate of Leadership.
View Women's Future Leadership Academy About Women's Future Leadership Academy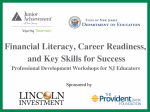 Professional Development Workshops
April Dates:

Thursday, April 22, 2021 | 3PM

Friday, April 23, 2021 | 9:30AM

The New Jersey Student Learning Standards – Career Readiness, Life Literacies, and Key Skills take on new meaning as NJ's economic landscape and labor markets shift. In collaboration with the NJ Department of Education (NJDOE), these interactive breakout sessions will bring educators and workforce partners together to learn practical strategies for meeting these standards in a virtual setting. Participants will have a greater understanding of the new financial literacy and career readiness standards, hear from industry leaders on the skills your students will need to be successful in the workplace, and how to provide virtual work-based learning opportunities. JA Education staff will walk you through our free online curriculum that meets financial literacy requirements and how to teach them in your classroom. PD certificates will be provided.
View Professional Development Workshops About Professional Development Workshops
Crack the Code
Date: Saturday, March 20, 2021 | 3-5PM

Crack the Code is a series of free virtual coding workshops for middle school students to introduce or further the principles of Computer Science, Web Development, Cybersecurity and more. We hope to inspire the younger generation to pursue careers in different technology fields through hands-on experience and mentorship. Sign up to participate or volunteer today!